From the Euphonix News-desk . . .
2023 - Summer Workshops
During four Wednesdays in August, Euphonix hosted singing workshops.

2 August saw the return of Johnny Kilhams who this year led the group on the "Sounds of South Africa. Johnny has been a frequent and popular lead at Euphonix's August Workshops for a number of years.

Euphonix were joined by Ben Crawley (a former Musical Director) in the middle of August whose workshop was entitled folk songs old and new

Thomas Chapman, Euphonix's very own Musical Director hosted two workshops. The first was on Madrigals and Partsongs, whilst the second was on the music and songs of Stevie Wonder.
---
2023 - Summer Concert raises £463.60 for Kingston WelCare Charity.
Euphonix's Summer Season ended on 12 July with a lunchtime concert at one of it's regular venue's, All Saints Church.

This term there were a mixture of songs. The Choir got the Concert going by singing A Comedy Tonight from the musical A Funny Thing Happened on the Way to the Forum by Stephen Sondheim. Summer is A-Coming In was next, a round dating from the 13 Century. The third number was Flame (Susie Ro Prater) a meditative song giving hope in times of darkness. This was followed by another Round - Take Me To The Water in the style of a Gospel song. The Choir then performed If I had a Hammer (Seeger & Hays) made famous in the 1960s by Peter, Paul & Mary. The next 3 were all suggested as potential songs by Choir members: Island of Dreams (Tom Springfield) made famous by the Seekers; The Longest Time (Billy Joel); and Our House (written by Graham Nash and recorded by Crosby, Stills, Nash & Young). The Concert ended with a bit of Jazz It Don't Mean a Thing (If It Ain't Got That Swing) based on 1931 composition by Duke Ellington with lyrics by Irving Mills. The Choir performed an encore with A Comedy Tonight.

In the audience were Sue Skrobanski (Director) and Fanny Su from Kingston WelCare. In a message of thanks Ms Skrobanski wrote how much they had enjoyed the concert and was delighted in the money raised for their Charity.
---
2023 - Spring Concert raises £540.31 for RALPHH Charity
Euphonix's first concert of 2023 took place at the end of March in the Rose Theatre Cafè. The Choir had been approached by a local charity, RALPHH, to assist in raising funds for its work on detecting undiagnosed heart conditions amongst young athletes, providing education on coronary problems involved in sports and providing defibrillators at club and sports venues. The Chair of RALPHH wrote a letter of thanks after the event in which he said -

"I am more than delighted to write this note of thanks for such a wonderful concert yesterday lunchtime and for the associated fact that we received donations totalling £540.31 ... ... (which is) more than exceeded expectations.

"Of course, this would not have been possible without the considerable amount of hard work and effort every choir member applied in creating such a stunningly good musical experience. As a semi-regular member of your audience on these occasions I must say that this was the best singing I have heard from the choir, so many congratulations.

"It was your Musical Director, Thomas Chapman, who said that he thought it was the best concert Euphonix had given and I would certainly echo his views from a less expert perspective. The choir continues to make wonderful progress and I look forward to attending your next concert, in anticipation of enjoying this just as much."
---
Autumn Concert & Christmas gigs 2022 raise £1,002.61 for charity
Christmas events 2022

During December Euphonix participated in a number of events in the Kingston area. The Choir had four gigs leading upto Christmas, on:

Wednesday 7th December - 1.00 & 2.00 p.m.
Euphonix sang Christmas Carols & Songs on the Christmas Market Stage in Kingston Market place. The Choir was booked for 2 sessions at 1.00 p.m. and 2.00 p.m, and proceeds from this event went to

Refugee Action Kingston

;

Saturday 17th December - 11.00 a.m.
The second of our Christmas Gigs was at All Saints Church, Kingston for their Christmas Tree Festival. This is an annual event that Euphonix is pleased to support the Church's annual charity appeal.
Saturday 17th December - 1.00 p.m.
Our third Gig was an impromptu lunchtime performance at John Lewis, Kingston. We were invited to sing at the John Lewis Store and during the gig

Refugee Action Kingston

collected funds for their Charity.
Monday 19th December - evening
Our final gig of 2022 was an evening at the Rose Theatre. The annual Rose's Snowball Event brought together a number of local amateur choirs to raise funds for the Theatre.
End of term Concert - November 2022
Euphonix's Autumn Concert 2022 took place on 23 November during the lunchtime at All Saints Church, Kingston. The concert was entitled Let The Waters Guide You Home as the songs that were sung reflected life and hope.

The Concert was in aid of Refugee Action Kingston and the Choir invited its Director, Bassam Marfouz, to give an update on their work within the borough. After the concert Mr Marfouz wrote:

"So lovely to meet the choir this afternoon and what a brilliant concert. Hats off to Tom and everyone – clearly lots of hours have gone in over the past few months.

"Thank you again for the opportunity to speak about what we do at RAK to the audience.

"I am delighted to say that a total of £546.51 was raised via cash donations, together with the £80 online, that brings it to a brilliant £626.51!

"And lots of people expressed interest at the end for volunteering opportunities, so hopefully see some of those coming through to our inbox in the coming days.

"Very much appreciated and a huge thank you again for selecting us as your charity this season."

The Choir also performed in Kingston's Christmas Market during the lunch period on Wednesday 7th December and in John Lewis Department Store on 17 December, when traditional Christmas carols and songs were sung for Refugee Action Kingston. Collections were taken at both events and £181.10 was collected at the Christmas Market and £195.00 at the John Lewis event.

Our November and December gigs have raised £1,002.61 for the Choir's chosen charity.
---
Euphonix Summer Workshops 2022
During August Euphonix put on four singing workshops that were led by three guest musical directors and its own musical director, Thomas Chapman. The Summer Workshops are an annual event organised by Euphonix for its members and the wider community, especially those who are interested in singing with Euphonix or simply want to experience singing in a choir. As in previous years all four workshops were based in the Kingston Working Men's Club in Kingston Town Centre.
Johnny Kilhams was invited back for the fourth year running and opened the first of the workshops with the theme of 3 Little Birds. This was a vocal workshop based around three pieces where the link was birds. During the workshop the participants were even encouraged to have a go at making bird calls! It lived up to its billing that guaranteed to lift spirits and sent the participants off with a smile.

Thomas Chapman, Euphonix Musical Director, led the second and third workshops. For the second workshop he chose the theme of Sea Shanties for the second workshop. The songs chosen were Haul Away Joe, The Times are Hard, The Wellerman and the Farewell Shanty. It certainly released the inner pirates in all those that attended. The third workshop focused on singing techniques and healthy vocal production through learning some fun and easy songs.

Ben Crawley (See) and Dom Stichbury, previous Euphonix Musical Directors, brought their very own unique style to the last of Euphonix's 2022 summer workshops. Ben & Dom led the workshop using three peices, starting with a round called We are One, and then teaching two other peices We Shall be Known, and Maybe It's Time. The participants filled the room at Kingston's Working Men's Club with glorious vocal harmonies.
Euphonix would like to thank the four leaders of its 2022 Summer Workshops for all the hard work and dedication they put in to making them such a success.
Summer Concert 2022
£564.69 raised in aid of Kingston Samaritans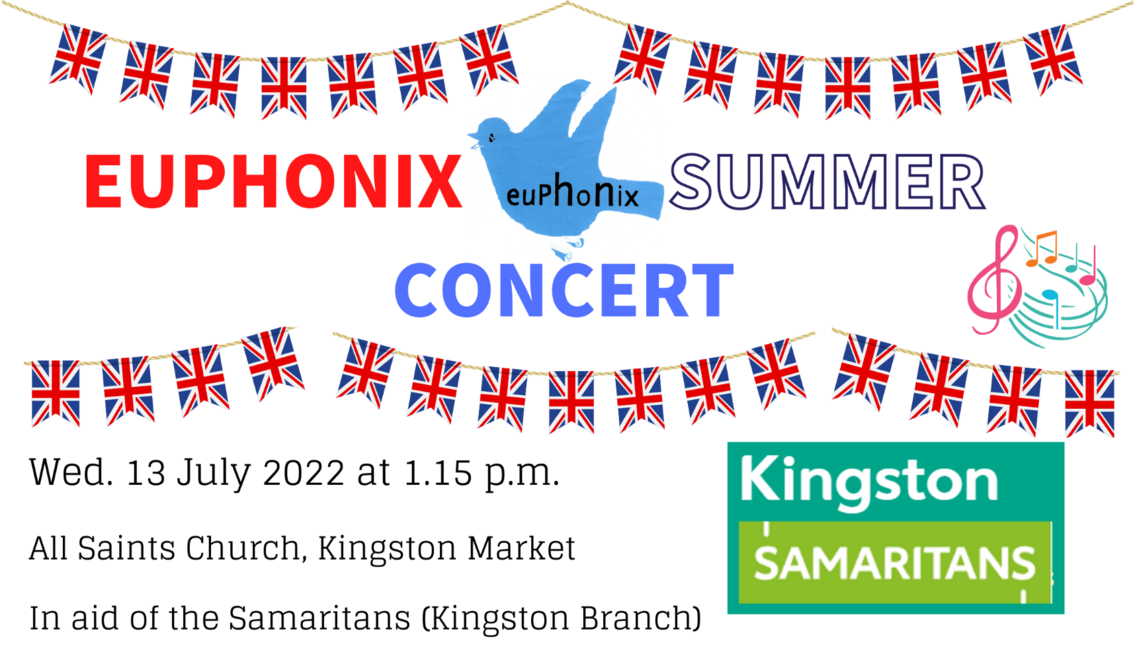 Euphonix's end of Term Summer Concert was held in All Saints Church, Kingston Market Place. The lunchtime concert saw the Church packed as the Choir went through its repertoire. Euphonix would like to thank all those who came along to the recital.
Afterwards, Euphonix's Musical Director said
"Wow! What a great show you put on today. We worked hard at the performance which had wonderful energy and vibrancy. The band really lifted you as always and the renditions of Lovely Day, Dancing in the Street and Let's Hang On really stick in the mind. That final encore of Shona Malanga was fantastic - the best unaccompanied singing I can remember from Euphonix and you did a great job on Good Day Sunshine too."
The concert was given to support the work of the Kingston Samaritans, a local charity. Their Assistant Fundraising Director, who was at the concert, described it as "Wonderful".
As with all Euphonix concerts it free but a collection was held in aid of the Kingston Branch of the Samaritans. The total raised was £564.69 (before GiftAid) and their Assistant Fundraising Director wrote -
The sum raised was ... "incredible, and we can't thank your Choir enough for the collection. This amount will fund an entire week's operation at our branch. Please pass on our thanks to the Choir."
If you would like to make a donation to assist in the work of the local Kingston Samaritans please use this link: Kingston-Samaritans
---
Euphonix Spring Concert - 6 April 2022
£536.34 raised in aid of Ukrainian refugees

PROGRAMME
Another successful end of term concert was performed at the Rose Theatre Cafè on 6 April. The concert raised £536.34 to support Ukrainian Refugees. Thank you to all who sung at the concert as well as those who came along to support us.
Euphonix has regularly performed their end of term lunchtime concerts at the Rose Theatre Cafè . These concerts have provided a springboard to raise funds and awareness for charitable organisations. This Spring Euphonix wanted to support those fleeing war and persecution in Ukraine and during the concert a voluntary collection was taken in support of this cause.
The concert began with two poignant freedom songs (originating from the deep south of the USA). Unaccompanied, the Choir sang I Can Hear a Train a-coming and I'm Gonna Lift my Brother Up. The focus of the event was, of course, the plight facing the Ukrainian peoples and both songs reflected the situation that they are facing.
The programme then continued with Blackbird (a Lennon & McCartney composition), followed by Four Strong Winds (Ian & Sylvia Tyson and made famous by Neil Young). The fifth number was Turn! Turn! Turn! (a song written by Pete Seeger in the late 1950s and made famous by the Byrds). This was followed by a beautiful rendition of Field of Gold (words & music by Sting). The next item was You're My Best Friend (written by John Deacon bass player and made famous by Queen). The penultimate song was Sail On (words & music by Lionel Richie and originally sung by the Commodores). The final song of the concert was Let's Hang On (originally sung by Frankie Valli and the Four Seasons).
Many of the song arrangements were by Thomas Chapman, Euphonix's Musical Director.
---
(page updated 16 Nov. 2023)